Dr. Steinberg Uses Endoscopic Carpal Tunnel Releases to Treat Hand Pain and Tingling in the Fingers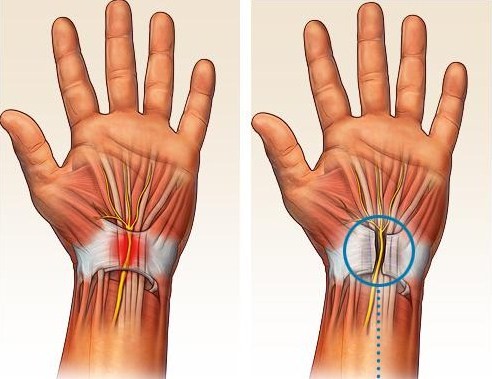 James Petragnani believed that the tingling, pain and lack of function he was experiencing in his hands was the same bursitis that other family members had suffered. He assumed that nothing could be done to ease his discomfort or help with the ability to use his hands. "While I could fall asleep, I found myself waking up in the middle of the night with a tingling feeling in my hands. I'd move my hand around to try and make the feeling go away. Finally I would fall back asleep, but the disruption was taking a toll on me." His wife also noticed that he was using his hands differently, and he seemed limited in his coordination. Mr. Petragnani explains that the ultimate test for him was when he could no longer click his fingers. "It may sound silly, but for me, when I could no longer make that motion, I realized I needed to see if there wasn't something that could be done."
Having undergone surgery for his knee while living elsewhere, Mr. Petragnani knew how important it was to find a doctor that is an expert in the field. He was new to town at the time, so he asked his daughter, who is in the medical field in Jacksonville, if she had any recommendations. She told him, that unquestionably, he needed to be seen at the Jacksonville Orthopaedic Institute. Further, a friend who is a physical therapist suggested that he schedule an appointment with Bruce Steinberg, M.D., because of his reputation as an expert in problems from the fingertips to the shoulder.
Upon examination and testing, Dr. Steinberg diagnosed Mr. Petragnani with carpal tunnel syndrome. "Dr. Steinberg was very clear in his description of my problem and the procedure. He took the time to make a drawing of the hand and wrist, which was helpful to me as I tend to catch on much quicker with the use of pictures." Mr. Petragnani was comforted to know that Dr. Steinberg routinely performs endoscopic carpal tunnel releases. "When you have a medical problem, especially one that requires surgery, you want to find someone who has performed the operation hundreds of times and has seen every variation. There was no question in my mind that Dr. Steinberg was just that person."
Mr. Petragnani also appreciated that Dr. Steinberg was upfront about what he could expect post-operatively. "I was well-prepared for what I would experience immediately after the operation and into the future." Dr. Steinberg preformed a right-sided endoscopic carpal tunnel release and a right index finger trigger digit release. Mr. Petragnani could not be more pleased with his surgery. "While Dr. Steinberg prescribed pain medication for after the surgery, I only took one pill. In my mind, that speaks to his extraordinary skill as a surgeon." He goes on to say that he has obtained a very large portion of his functionality back and that has full mechanical ability to use his hands comfortably. Mr. Petragnani sleeps comfortably and can perform everyday tasks as he could in the past.
"I encourage others to carefully research their doctors. Find someone who has dealt with your kinds of issues on a daily basis, and most importantly, continuously achieves success in treatment. For me, Dr. Steinberg fulfilled that role in treating my carpal tunnel syndrome and trigger finger problems."
– James Petragnani