Dr. Steinberg Uses Advanced Shoulder Surgery Techniques to Treat Arthritis and Carpel Tunnel Syndrome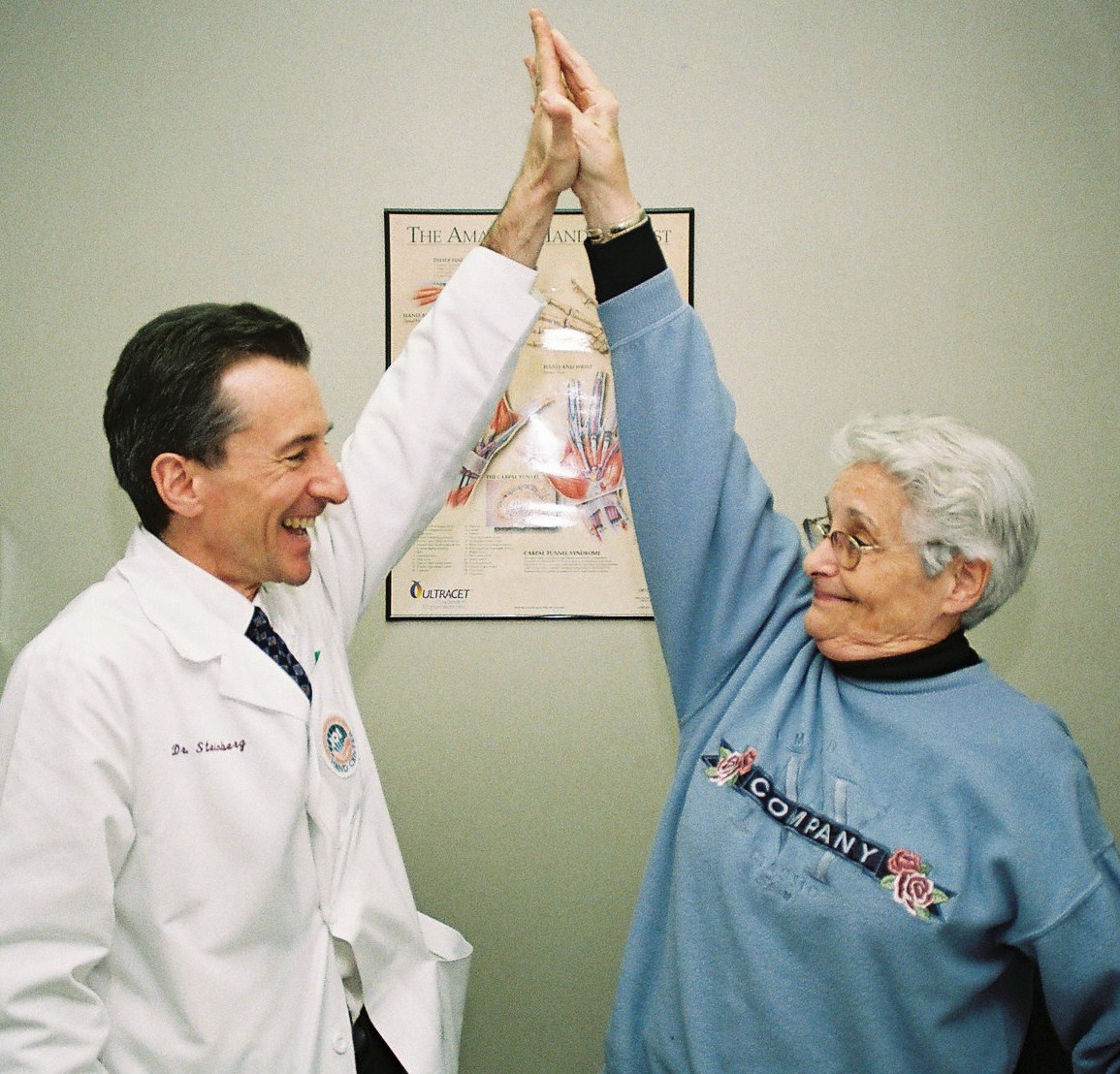 Mrs. Judith D. is a woman who has suffered with many problems of both of her upper extremities. "I've faced health challenges and pain, and know how important it is to have good medical care. With the carpal tunnel syndrome problems, I was having difficulty holding a book. I sing in my church choir and the day I dropped the music during a service, I knew it was time to seek help." Mrs. D. is extremely grateful that she found her way to Bruce Steinberg, M.D., a specialist in upper extremities.
Six years ago, upon examination and testing, Dr. Steinberg diagnosed Mrs. D. with carpal tunnel syndrome and performed a left side endoscopic carpal tunnel release resolving her numbness, tingling and pain. A few months later, he successfully performed the same surgery on her right side. "I healed very quickly from my surgeries and credit Dr. Steinberg's expertise." Mrs. D. returned to Dr. Steinberg four years later when she noted progressive pain and swelling of her right wrist and was having difficulty performing any kind of twisting or gripping motions. He diagnosed her with severe arthritis of the wrist and eventually performed a right wrist fusion with radial bone graft and a ganglion cyst excision. She no longer suffered pain in her wrist and function returned.
After Mrs. D. recovered from the wrist surgery, she asked Dr. Steinberg to evaluate her painful, weak shoulder as she was unable to lift her arm above her shoulder and could not sleep at night due to the extreme discomfort. Although Mrs. D. had undergone previous shoulder surgery elsewhere, she was found to have a very complex combination of a massive rotator cuff tear and arthritis of the ball and socket joint. Dr. Steinberg performed a successful reconstruction of the shoulder with newly developed reverse head prosthesis. This advanced prosthesis resurfaces the ball and socket joint while at the same time mechanically works without a functioning rotator cuff.
"I have had a lot of challenges with my hands, wrists and shoulder. The exceptional care that I have received from Dr. Steinberg has allowed me to do the thing that is my greatest blessing, and that is to help care for my three young grandchildren. They are very busy and I need to be able to use my arms to keep up with them!" Mrs. D. continues, "If I hear of anyone who is having problems with their arms, shoulders or hands, I recommend that they go see Dr. Steinberg immediately. There is no need to suffer with pain or inability to use your arms or hands when there is someone who is able to help you."
– Judith D.