Dr. Steinberg Performs Total Elbow Joint Replacement to Successfully Treat Rheumatoid Arthritis Pain
While Mrs. Bonnie B. may not use these words herself, clearly hers is a story of perseverance, optimism and the power of a "can-do" attitude. What she will talk about is how expert medical care, specifically that provided by Bruce Steinberg, M.D., a specialist in the upper extremity, has helped to give her a decent quality of life. Rheumatoid arthritis (RA) is a chronic, degenerative disease with symptoms that can include damage to bones (joints), tendons, ligaments, and cartilage. Joint deformity, disability, and extreme pain often occur. Over the years Mrs. B. has undergone multiple procedures and surgeries from deterioration that has occurred because of her RA. "At a certain point, you just stop counting, but it's fair to say that I have spent plenty of time with doctors and physical therapists!"
In her most recent incident, Mrs. B. was having quite a bit of pain in her right elbow. She went to see Dr. Steinberg for assessment. After consulting with Gary Kitay, M.D., also a specialist in the upper extremity at JOI, Dr. Steinberg told Mrs. B. that he and his colleague agreed that a major surgical intervention that may lead to dysfunction and/or pain was not warranted at that time. However, they were concerned that the progressive destruction of the elbow may eventually eliminate options. At that point, the decision was made to review the elbow in six months to determine appropriate action.
As may be the case with those who suffer from RA, it was actually the same joint on the other side that became the emergent problem. Due to the symmetrical nature of RA, if a joint on one side of the body is impacted, the corresponding joint on the other side may as well. For Mrs. B., one day, about six months after her right elbow problems, she both felt, and heard, a loud crack in her left elbow. "I knew something was really wrong, because the pain was excruciating." Dr. Steinberg diagnosed her with a fracture of the left distal humerus. After additional consultation and careful consideration of all options, Dr. Steinberg determined that immobilization by use of a splint and careful observation was the best course of action. Mrs. B was also hopeful of avoiding another surgery, but after several months, determined that she was no longer able to live with her left arm in a splint all the time. Dr. Steinberg performed a total joint replacement of the left elbow.
"Before the surgery, Dr. Steinberg explained to me that this was a big operation. As always, he thoroughly described the procedure, and even more importantly to me, what I could expect afterwards in my recovery. What I know about Dr. Steinberg is that he does not take short-cuts. I knew he would give me every opportunity to gain use of my left arm again. Obviously the surgery was a tremendous success, because I am back to full-function with no pain."
Mrs. B appreciates Dr. Steinberg's desire to give her the best chances for long-term continued comfortable use of her arms. He has always emphasized that he will do what he can through procedures and surgery, but that she has responsibility for following therapy protocol. "You know you've spent a lot of time in rehab when you're in line at Universal Studios and a JOI therapist, other than your own, recognizes you! Dr. Steinberg has always said that therapy is key to my resuming maximum function, and I do as he says. So I do know and respect the therapists at JOI, and apparently they know me as well!"
Mrs. B. is cognizant that with her condition, she will continue to require medical interventions when injuries arise. But she has determined to focus on what she can do in life, rather than what she can't do. "I don't think about my limitations. I just do what I'm able, and get on with it. But it is comforting to know that I have Dr. Steinberg as part of my team. There's no question he is excellent at what he does, and that he has my long-term best interest at heart". When asked if she would be willing to share this part of her story, Mrs. B. did not hesitate for a second. "Before the question was complete, I said 'of course'. If I can help others by sharing my story, then I am happy to do so. And I could not recommend Dr. Steinberg any more strongly. He is an expert who truly cares."
– Bonnie B.
Endoscopic Carpal Tunnel Release Treats Charles' Left Shoulder Arthritis and Rotator Cuff Tear
Charles Zittrower is a man of action. He stays busy, and when he experienced difficulty with his bilateral upper extremities, he did not like the loss of control that the pain and weakness with consequent inactivity caused. "I always have a project going, and in my work as a plumber, use of my hands and arms is absolutely critical." Mr. Zittrower had been experiencing shoulder problems for some time, but it became much worse when he fell on his outstretched arm after losing his balance. He was referred to Bruce Steinberg, M.D., a specialist in the upper extremity. Through examination and testing, Mr. Zittrower was diagnosed with a degenerative left shoulder with rotator cuff fraying, left elbow lateral epicondylitis and right ring finger trigger digit. He received injections in both his shoulder and elbow, which helped to alleviate his symptoms.
A few years later, Mr. Zittrower returned to Dr. Steinberg with weakness, numbness and tingling in his left hand, as well as some returning discomfort in his elbow and shoulder regions. Dr. Steinberg performed a left-sided endoscopic carpal tunnel release and a left elbow ulnar nerve release. Following the surgery, Mr. Zittrower regained strength in his left hand. Several months later, Mr. Zittrower developed similar symptoms in his right hand and Dr. Steinberg performed a right-sided endoscopic carpal tunnel release and right elbow ulnar nerve release. Once again, Mr. Zittrower's symptoms resolved. However, Mr. Zittrower's left shoulder was causing much greater difficulty; he was unable to lift his left arm any higher than his shoulder, and was experiencing increasing pain. "The thing is that the shoulder pain was really impacting so many other areas of my life. Because I couldn't get a good night's sleep, I was almost like a zombie during the day. It was really difficult to function." Mr. Zittrower also experienced problems with his blood pressure, attributing it to stress from his shoulder pain and resultant inability to sleep well.
Mr. Zittrower appreciates that Dr. Steinberg took a conservative approach to dealing with his various challenges. "My shoulder had been a problem for some time and I would have injections that would hold me for a while. But then it got to the point that the injections were no longer helping." Dr. Steinberg diagnosed Mr. Zittrower with left shoulder arthritis glenohumeral joint in the setting of a massive retracted rotator cuff tear. After careful consideration, Mr. Zittrower elected to have Dr. Steinberg perform a left shoulder reverse head total joint replacement.
Mr. Zittrower had complete confidence in Dr. Steinberg's ability to fix his shoulder. "I really appreciated that he spent a lot of time explaining the procedure to me. He told me this was a big operation, and the rehab was going to take a lot of time. It was good that he was honest with me so that I knew what to expect. After the surgery, sometimes I would get a little impatient that I wasn't getting better quicker, but my JOI therapist was my partner through the whole process. He told me to trust him and to do what he said. Before long, I began to see improvement. Dr. Steinberg did his part, and it was up to me to put everything I could into my rehab. I felt like he, the therapist and I were a team."
Mr. Zittrower is quick to add that his wife of 52 years is also highly complimentary of Dr. Steinberg and grateful that he was able to heal her husband. Mr. Zittrower says, "Our prayer is that Dr. Steinberg and his team can do this well with all his patients. I am lucky that I had the support of a great doctor, rehab therapist and family to help me get through this process. My shoulder is now 100%. I'm back to my former level of activity. I truly believe Dr. Steinberg took 20 years off my shoulder and has given me my life back!"
– Charles Zittrower
Rheumatologist Recommended Wrist Surgeon Dr. Steinberg Performs Hand and Wrist Reconstructive Surgery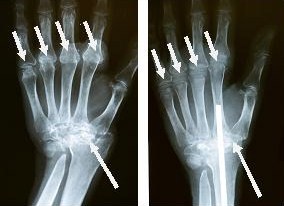 Mrs. Bonnie B. has dealt with rheumatoid arthritis for more than 20 years. While she does not complain about her pain, the disease has not been easy. "Function is all relative. I don't feel sorry for myself, and if I have to get things done differently than most everyone else, that's ok. I figure out a way to get it done." This attitude is exemplified in the way she creatively devised a method for affixing and releasing the clip on her grandson's car seat when she drove him to preschool. She found a pair of blue-handled needle-nosed pliers that were bent at an angle that fit perfectly into the buckle. Her grandson would even ask her, "Do you have the blue thing?"

Prior to moving here in 1996, Mrs. B. had undergone surgeries related to her condition. She knew that with the progressive nature of the disease, it was key that she find medical professionals who could provide her with excellent ongoing care. She considers herself extremely fortunate that her rheumatologist referred her to Bruce Steinberg, M.D., specialist in upper extremities. She is able to laugh about the fact that she has been a multi-year patient of Dr. Steinberg's and will continue to be. "I'm guessing that most people see their orthopaedic surgeons a couple of times to fix a particular problem. For someone like me who has rheumatoid arthritis, I knew this was going to be a long-term doctor-patient relationship." It was important that Mrs. B. find someone with whom she could have a comfortable rapport.

"While I was able to find a way to function, Dr. Steinberg has always been proactive in performing my operations. He was mindful that the joint replacements he performed needed to be done while there was still enough bone mass to make the procedures viable." She continues to say that with her, Dr. Steinberg is always thinking about the future and providing her every opportunity for continued function later. "He's trying to position me best for what's ahead."

Mrs. B. has happily referred others to Dr. Steinberg. "He knows his stuff and there's never any question about it." She has always felt that her long-term well-being was important to him. "I have been a patient of Dr. Steinberg's for many years. During that time he has performed multiple surgeries on me. He is accessible and thorough. He will spend as much time with me as necessary, and I never feel like he has one foot out the door. Most importantly, he is extraordinarily competent. What matters most is that my doctor knows what he's doing. It is an added bonus that Dr. Steinberg finds a way to make the experience pleasant. With him, you're getting the whole package, a heck of a nice guy who is an expert at what he does. I appreciate him and the care he has provided me over the years."
– Bonnie B.
After Dr. Steinberg Treated Tendonitis in Her Thumbs, Brenda Has No Pain Whatsoever
In her career as a phlebotomist for the past 19 years, Brenda Erickson has been required to use her hands constantly when drawing blood from patients. So when she began to experience pain in her thumbs, she assumed it was related to working with her hands all the time. In fact, she was told that what she was experiencing was tendonitis and nothing could be done to help her. Her situation became progressively worse. "Any kind of gripping motion was difficult so doing simple housekeeping tasks such as making the bed was challenging." Buttoning a shirt, writing, and even holding a book to read became impossible. "It was so bad, that if I decided I wanted to do something like make a cake, I'd have to wait until my husband was home, because I knew my hands would hurt so much I wouldn't be able to complete the recipe." Tasks at work were equally, if not more challenging.

Mrs. Erickson decided that she needed to pursue her diagnosis further and was determined to find the best doctor to help her. She spoke with both the doctor for whom she worked at the time, as well as one of her regular patients who also works in the medical field. "I respect the opinion of both of these people and each was adamant that the person for me to see was Dr. Steinberg." Bruce Steinberg, M.D., is a specialist in upper extremities; when Mrs. Erickson described the feeling of her thumbs "catching and popping", much like a rubber band, Dr. Steinberg indicted there was likely involvement of the joints themselves. "It was great to have someone understand the pain I was describing, like a steady toothache that just won't go away. When I talked about my other symptoms such as waking in the night with shooting pain, it was obvious that Dr. Steinberg was anxious to help relieve my pain."

Upon testing and examination, Dr. Steinberg diagnosed Mrs. Erickson with bilateral arthritis of the thumbs. Beginning with the most conservative course of treatment, she received cortisone injections in both of her thumbs. Unfortunately, Mrs. Erickson was unable to attain extended relief and thus, Dr. Steinberg performed a left thumb trapezial excision and fcr reconstruction. "It was great how quickly the pain was gone. My father saw me a week before my surgery and was very concerned about how much I was suffering. He called me every night after the surgery and was just amazed at how much better I was doing in such a short period of time."

Mrs. Erickson was so pleased with the results of the surgery on her left hand, that she asked Dr. Steinberg to do the other as quickly as possible. "I was ready to have the right side stop hurting as well, but Dr. Steinberg told me I needed to let the left side heal before he would be able to do the right." Six months later Dr. Steinberg performed a right side thumb reconstruction. As with her first surgery, Mrs. Erickson is delighted with the results.

"I have no pain what-so-ever. When you have suffered to the extent that it brings you to tears, you really appreciate not having it." Mrs. Erickson and her husband are in the process of building a new home. She is looking forward to doing all of those things that make owning and decorating a new home enjoyable. "If you think about it, before Dr. Steinberg helped me, packing and moving in itself would have been impossible. Now I can enjoy all of the aspects of this exciting time." Mrs. Erickson encourages anyone who is having problems with their upper extremities to see Dr. Steinberg, sooner rather than later. "He will listen to what you have to say, make an accurate diagnosis, help you to understand and most importantly, do all he can to make you better."
– Brenda Erickson
Toshiko Can Again Enjoy Sewing After Thumb Arthritis Treatments from Dr. Steinberg
Toshiko Butler has always enjoyed arts and crafts including sewing and crocheting, and has even attended painting classes. So over the years, as she began to experience pain and lack of function in her right thumb, her inability to enjoy her hobbies was frustrating. "It was very painful. My hand hurt so much; I couldn't do the things I love." Any kind of twisting, turning or gripping actions were painful and difficult. Mrs. Butler saw another doctor who treated her with injections, however she obtained no relief. As her discomfort became progressively worse and her function continued to decline, Mrs. Butler realized that she needed additional help. A friend recommended that she see Bruce Steinberg, M.D., specialist in upper extremities.

"When I first met Dr. Steinberg, he made me feel very confident that he could make me better." Mrs. Butler says that sometimes she finds it difficult to understand complicated medical terms. "With Dr. Steinberg, it was different from any other time. He explained everything to me and wanted to be sure I knew what he was saying. He asked me questions to make sure I understood him." Dr. Steinberg diagnosed Mrs. Butler with severe arthritis in her thumb and performed a right thumb trapezial excision and FCR reconstruction.

A few years later, Mrs. Butler's left thumb began to cause her a great deal of pain and she once again was having difficulty with function. "I went to see Dr. Steinberg to see if he could help me again." Dr. Steinberg diagnosed Mrs. Butler with left side arthritis of the thumb and attempted to treat her initially through a conservative course of injections. "I was not looking forward to the appointment because I had shots before with another doctor. But with Dr. Steinberg, he was speaking to me the whole time, and I didn't even know he had given me the shot. I realized he was talking to distract me so I wouldn't be afraid."

Unfortunately, Mrs. Butler was unable to obtain lasting relief from the initial procedure and thus Dr. Steinberg performed a left thumb trapezial excision and FCR reconstruction.
Following her second surgery, Mrs. Butler was having dinner in a local restaurant one evening. "The waitress saw my cast and asked what happened. I told her I just had surgery at Jacksonville Orthopaedic Institute. She asked me the name of my doctor and was excited when I said 'Dr. Steinberg' because she had been one of his patients and loved him, too! We spent a few minutes talking about how much he helped us."

Mrs. Butler happily shares how the quality of her life has improved, even in her ability to perform the simplest of tasks. "Now I can tear open the sweetener package for my coffee and pick up the container of cream. I can fix my own coffee just the way I like it! Every day I am able to do more and more. In fact, as I'm drinking my coffee in the morning, I put my left hand on the cup to warm it up before I begin my exercises."

Mrs. Butler appreciates that Dr. Steinberg also helped her to understand how important therapy would be to her recovery with each surgery. She is very impressed with the JOI Rehabilitation Department, not only in the way she was treated during her appointments, but also the direction she has received for home routines. "Sometimes it is tough, but my therapists help me to keep working on my exercises, especially at home."

"I am so glad Dr. Steinberg is my doctor. He made everything easier. He spoke to my head, and he also spoke to my heart." Mrs. Butler is happy to recommend anyone to Dr. Steinberg. "He is full of kindness and he really wants to help you. I am glad to have a doctor who I trust 100%".
– Toshiko Butler
After Shoulder Surgery for Arthritis Pain, George Can Enjoy Combing His Hair and Throwing a Ball
George Lewis attended each appointment with his wife, Mary Ann, when she was a patient of Bruce Steinberg, M.D. He watched as Dr. Steinberg progressed through treating Mrs. Lewis' severely broken wrist. For years, Mr. Lewis had been experiencing his own pain, in his case, with the right shoulder. "Nearly 12 years ago I fell off the back of a pickup truck and broke my wrist. I think there probably was some damage done to the shoulder but it was not treated at the time." Ever since that accident, Mr. Lewis' shoulder has not been the same. Six years ago he underwent shoulder surgery; unfortunately, it brought him little long-term relief. "I'm not exactly sure what occurred, but I certainly continued to have pain. I assumed that nothing further could be done to help me."
As he witnessed the superior care his wife received from Dr. Steinberg, however, Mr. Lewis became convinced that if anyone could help him, it would be Dr. Steinberg. "Mary Ann was in a pretty bad way when she saw him. Dr. Steinberg always treated her with respect, and was much attuned to her. We understand her injury was very complex, but he fixed it. I wanted to see if he could do something for me as well." At that point Mr. Lewis was experiencing progressively worse pain and limited functionality including an inability to perform simple tasks such as combing his hair or throwing a ball.
Upon examination and testing, Dr. Steinberg diagnosed Mr. Lewis with arthritis of the glenohumeral joint and performed a right shoulder hemiarthoplasty. Mr. Lewis required physical therapy and was so pleased with his wife's therapist that he also wanted to undergo his therapy at the rehabilitation department of JOI. The physical therapist attended Mr. Lewis' appointments with Dr. Steinberg to review progress. Mr. Lewis was grateful as he found that if he couldn't adequately describe a particular challenge, the therapist was able to do so.
Occasionally Mr. Lewis needed to call into the office regarding another medical condition and how it might impact his shoulder surgery recovery. "Everyone on Dr. Steinberg's staff was kind and caring. At times when I called in with questions, the office staff was responsive. I know that to have a staff that runs as efficiently and well as Dr. Steinberg's, it begins at the top. It starts by him setting the right example. Due to my previous experience with shoulder surgery, I never thought I would be able to get the improvement that I have achieved. Thankfully, Dr. Steinberg proved to me just how successful an outcome can be when the patient is in the hands of the right doctor and team."
– George Lewis
Dr. Steinberg Uses Advanced Shoulder Surgery Techniques to Treat Arthritis and Carpel Tunnel Syndrome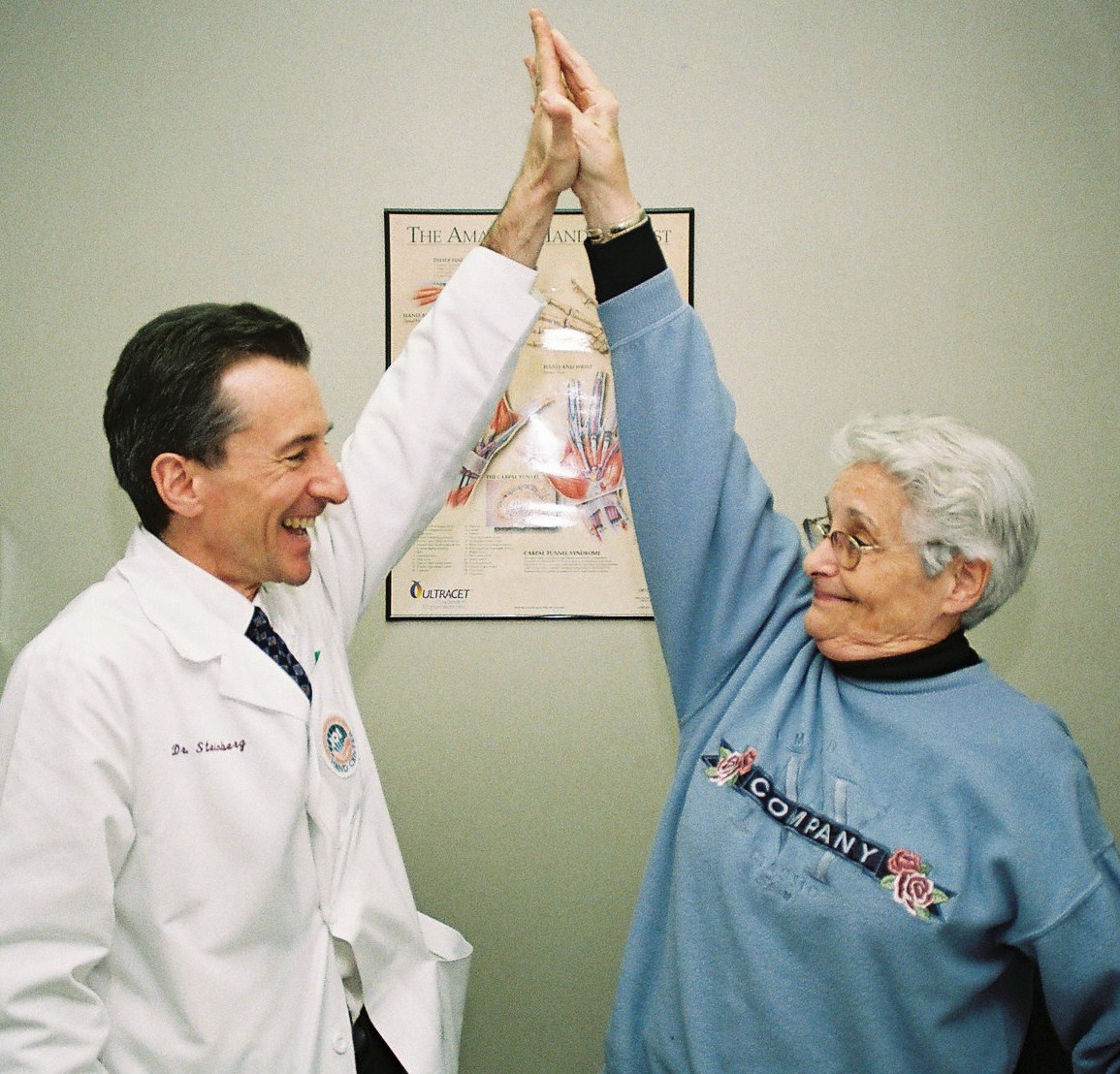 Mrs. Judith D. is a woman who has suffered with many problems of both of her upper extremities. "I've faced health challenges and pain, and know how important it is to have good medical care. With the carpal tunnel syndrome problems, I was having difficulty holding a book. I sing in my church choir and the day I dropped the music during a service, I knew it was time to seek help." Mrs. D. is extremely grateful that she found her way to Bruce Steinberg, M.D., a specialist in upper extremities.
Six years ago, upon examination and testing, Dr. Steinberg diagnosed Mrs. D. with carpal tunnel syndrome and performed a left side endoscopic carpal tunnel release resolving her numbness, tingling and pain. A few months later, he successfully performed the same surgery on her right side. "I healed very quickly from my surgeries and credit Dr. Steinberg's expertise." Mrs. D. returned to Dr. Steinberg four years later when she noted progressive pain and swelling of her right wrist and was having difficulty performing any kind of twisting or gripping motions. He diagnosed her with severe arthritis of the wrist and eventually performed a right wrist fusion with radial bone graft and a ganglion cyst excision. She no longer suffered pain in her wrist and function returned.
After Mrs. D. recovered from the wrist surgery, she asked Dr. Steinberg to evaluate her painful, weak shoulder as she was unable to lift her arm above her shoulder and could not sleep at night due to the extreme discomfort. Although Mrs. D. had undergone previous shoulder surgery elsewhere, she was found to have a very complex combination of a massive rotator cuff tear and arthritis of the ball and socket joint. Dr. Steinberg performed a successful reconstruction of the shoulder with newly developed reverse head prosthesis. This advanced prosthesis resurfaces the ball and socket joint while at the same time mechanically works without a functioning rotator cuff.
"I have had a lot of challenges with my hands, wrists and shoulder. The exceptional care that I have received from Dr. Steinberg has allowed me to do the thing that is my greatest blessing, and that is to help care for my three young grandchildren. They are very busy and I need to be able to use my arms to keep up with them!" Mrs. D. continues, "If I hear of anyone who is having problems with their arms, shoulders or hands, I recommend that they go see Dr. Steinberg immediately. There is no need to suffer with pain or inability to use your arms or hands when there is someone who is able to help you."
– Judith D.
Orthopedic Doctor Steinberg Successfully Treats Thumb Arthritis with Joint Reconstruction
Mary and Louis Filoso enjoy volunteering for their church in activities as diverse as decorating for congregation dinners to sewing costumes for entertaining underprivileged children on mission trips. Mrs. Filoso shares that they have been married for 11 years and were recently chosen to be the King and Queen of their church's Valentine's Day Party. "We are so blessed, in so many ways. We lead an active life and enjoy sharing our time together in service to others. So it was somewhat ironic that we both ended up in arm casts, on the same side, at the same time!"
Mrs. Filoso had been experiencing discomfort in her thumb for years, and it became progressively worse. "The thumb was paining me for a long time, but I tried to get past it. Finally it got to the point that I was in constant pain and couldn't pick up anything." Gripping and pinching with the thumb and index finger was impossible. Fortunately Mrs. Filoso found her way to Bruce Steinberg, M.D. , specialist in upper extremities. "We feel very blessed to have found Dr. Steinberg. He has made a tremendous difference in both my husband's and my quality of life." Upon examination and testing, Dr. Steinberg diagnosed Mrs. Filoso with arthritis of the base of her thumb. "He wasn't quick to move to surgery; he wanted to see if I could get enough pain relief with cortisone shots. Unfortunately, they just didn't end up helping me enough."
Dr. Steinberg performed a joint replacement surgery called left thumb trapezial excision FCR reconstruction. "I was not anxious to have the operation, and in fact, would not have done so if Dr. Steinberg didn't recommend it so strongly. He told me that in order to gain any leverage, this was my option. I appreciate that he explained the procedure very thoroughly, that he would be using a tendon to form another cartilage. He knew exactly what he was doing and I felt as though as I was in very good hands." She goes on to say that he did a great job in reconstructing her thumb. "It is obvious that Dr. Steinberg is a gifted surgeon. He was able to fix me so that I do not have any pain any more. I am able to fully enjoy all the activities that are so meaningful to my husband and me."
Ironically enough, during the time Mrs. Filoso was in a cast and recovering from her surgery, her husband fell and broke his hand. He suffered a spiral oblique site metacarpal fracture. "Dr. Steinberg explained that my husband's break, which he referred to as a spiral break, is very unusual." Fortunately, Dr. Steinberg was able to treat the fracture without surgery, but rather through casting.
Mr. and Mrs. Filoso ended up having the same arms in casts at the same time. "Believe it or not, a friend of ours was also a patient of Dr. Steinberg's, and she was in a cast at the same time as my husband and me." With treatment by Dr. Steinberg, Mr. Filoso has been able to return to his normal activities. "He just amazes me. This summer he installed an irrigation system in our yard. He goes from doing that kind of work, to dressing up like a clown and making balloon animals for children that we meet during our mission work. I am grateful that Dr. Steinberg was able to repair his hand so that he is able to do the things that he loves."
Mrs. Filoso continues that she happily recommends Dr. Steinberg to others. "I tell everyone, if they have a problem with their hands or arms or shoulders, they must see Dr. Steinberg. When I get onto something good, I like to spread the word."
– Mary Filoso
Total Shoulder Replacement Surgery Helped Treat Carolyn's Shoulder Arthritis
Carolyn Whorton assumed that the progressive pain and loss of function she was experiencing with her left shoulder was merely "a part of getting older". Sleeping comfortably became more difficult and she experienced increased "clicking and popping" of her shoulder. It wasn't until the pain became unrelenting that she decided to make an appointment with a doctor to try and obtain some relief. Unfortunately, the conservative course of treatment attempted to help Mrs. Whorton was not enough. At this point, she was referred to Bruce Steinberg, M.D. Upon examination and testing, Dr. Steinberg diagnosed Mrs. Whorton with arthritis of the glenohumeral joint and informed her that she was a candidate for a left shoulder total joint replacement. Understanding Mrs. Whorton's apprehension, Dr. Steinberg supplied her with patient references who gladly shared their experiences.

"I can't say enough positive about Dr. Steinberg. When I began considering the surgery, he explained everything very thoroughly. I could ask any question and never felt rushed. He wanted me to be as comfortable about my surgery as possible, even providing me names of other patients who had undergone the same operation. It helped me to be prepared and to understand that I also had responsibility for my recovery, which would mean committing to physical therapy."

Mrs. Whorton underwent a total replacement of the left shoulder. Following her surgery, when advised by Dr. Steinberg, she undertook a rigorous course of physical therapy, appreciating that her participation was critical in a total recovery. Mrs. Whorton says that the physical therapy she received from the JOI Rehabilitation Department was exceptional. Not only did she obtain excellent results but she never minded the time. "The therapists made me feel like family, like I was at home. There was always a lot of laughing and joking so I never dreaded my therapy sessions."

When diagnosing Mrs. Whorton's left shoulder problem, Dr. Steinberg informed her that, regrettably, at some point, she would also require similar treatment of her right shoulder. It wasn't long after her initial surgery that the pain and loss of function escalated in her right shoulder. Because she is right-handed, simple activities like combing her hair or reaching for a glass out of the pantry became a problem. Mrs. Whorton laughingly recalls that prior to her right shoulder surgery, she went to the extent of moving her dishes to the floor because it was too difficult to lift her arm enough to reach what she needed from kitchen cabinets for meal preparation. "You don't realize how performing even the simplest of tasks can impact your lifestyle, or how constant pain impacts your quality of life. "


Mrs. Whorton underwent a right shoulder total replacement almost a year to the day after her left shoulder surgery. Due to the success of both of her operations and her hard work in physical therapy, Mrs. Whorton can now raise her arms to reach whatever she desires, exercise, and sleep comfortably. Most importantly, she no longer has pain.

"My husband and I have watched Jacksonville grow over the course of many years. Institutions like JOI and caregivers like Dr. Steinberg are what make our medical community strong. I am eternally grateful for the care I received from Dr. Steinberg and others at JOI. I am happy to recommend him to anyone."
– Carolyn Whorton