Testimonials
Practice Specialty: Arthroscopy
George Bartley recalls sustaining an injury nearly 30 years ago while serving in the U.S. Marine Corps and that is when his shoulder pain began. He believes that his later work as a paramedic, carrying stretchers and heavy equipment, likely aggravated his condition. In 2012, Mr. Bartley's pain level and diminished arm function had grown to the point that he sought help. A surgeon at another local practice suggested shoulder surgery. "I went into that first surgery with great hope that my shoulder would be repaired and the pain would be better." Unfortunately, that was not to be the case. Mr. Bartley returned to the same surgeon, who performed a second surgery six months later, in another attempt to repair Mr. Bartley's shoulder. Again, the surgery was unsuccessful. "In fact, after the second surgery, my pain became much worse than before either of the surgeries was performed. I couldn't sleep or move my arm. I was miserable."
How does one say thank you for providing the treatment, the procedure that totally eliminated 12-14 years of pain before I would have been old enough to qualify for a full-shoulder replacement with an artificial shoulder? How does one say thank you for giving me my arm back?
Ms. Ballas believes that having a realistic understanding of what to expect prior to her surgery, and closely following Dr. Steinberg's instruction, is what has helped her to recover. She also thinks that Dr. Steinberg's conservative approach to recovery is part of what lends itself to his stellar reputation in the medical community. "I would guess that Dr. Steinberg's patients have a much lower incidence of repeat surgeries, not only because of his skill as a surgeon, but also because he is adamant that thorough, structured therapy is critical to giving patients the very best opportunity for healing."
"I do not have pain anymore and am able to use my arm. I am grateful for all that Dr. Steinberg has done to help me." Mrs. Jenkins is delighted to be back to enjoying activities with her grandchildren and precious pets. "I appreciate being able to actively participate in family fun, but also enjoying the quiet moments of cuddling with my cats. When I was injured, those simple pleasures were not possible." Mrs. Jenkins credits Dr. Steinberg for giving her the opportunity to fully embrace and enjoy her life once again.
Mrs. Davis has resumed all of her normal activities at work and around the house. She recently helped to paint a room and even assisted her husband in installing a ceiling light fixture. "To be able to lift my arms above my head would have been impossible; to be able to do so for an extended period of time, unimaginable. I am beyond grateful to Dr. Steinberg." When asked if she would refer him to others, Mrs. Davis is quick to respond: "I already have! Dr. Steinberg is a rare doctor who doesn't make you feel like you're a number or a dollar sign. You are an individual with real problems who needs help. Of course I am happy to recommend him to anyone."
Retired educator Connie Lahey Rennie describes herself as a "type-A personality" who has been treated by Bruce Steinberg, M.D., for three different problems at various times: numbness and tingling of her hands, a broken left wrist, and pain and weakness of her right shoulder. Mrs. Rennie believes that her active lifestyle, which includes intense exercise such as running, Pilates and weight training, has contributed to some of her injuries. During her workouts she always pushes her body to do more. However, after suffering these injuries, her quality of life was greatly diminished. "It got to the point where enjoying simple pleasures, such as a steak dinner out with friends, was impossible."
Fred Butts had the good fortune to retire at an early age, with the intention of playing golf for many years. However, a few years ago, he noticed that his game was beginning to deteriorate. He experienced increasing shoulder weakness and had difficulty making shots that were easily part of his repertoire in the past. "One day, while I was doing some yard work and moving a wheelbarrow full of wet mulch, I knew that I had a serious problem with my shoulder. " Sadly, Mr. Butts realized he could no longer play golf. He attended physical therapy, thinking and hoping that he was improving. He worked hard but in retrospect, believes that he probably exacerbated his situation. By about the twelfth week, Mr. Butts came to the conclusion that his situation was quite extreme and getting worse. In fact, even the simplest activities such as washing his hair, getting dressed or crossing his arm in front of his chest was difficult.
Joe Schmalzried, an active, "always on the go" kind of guy, participates in athletics and enjoys working at a golf course. Unfortunately, several years ago he suffered a radial head fracture of his right elbow after a 22 foot fall. Since the time of that injury, he experienced ongoing problems with his right elbow but the discomfort was never enough to prevent him from participating in the sports he loves. That is, until one day while doing yard work, his right elbow locked up. The pain was great enough that Mr. Schmalzried could barely move his arm. "I'm the kind of guy who likes to be busy; golf and bowling are some of my favorite activities. However, after my elbow locked up, the pain kept me from doing much of anything."
Monica C. knows about athletics and the human body as a physical education teacher, college basketball referee and former collegiate athlete. So when she dove to catch a ball during a softball game, she realized that the pain in her shoulder was more than just a simple muscle strain. "The pain was fairly intense, but I finished out the game," Ms. C. recounts. "As an athlete, I'm use to minor injuries, but it was obvious this was something more." She could not lift her arm and her range of motion was severely hampered thereby making her job as a PE teacher extremely difficult.
Practice Specialty: Endoscopy
Watch Harry Andrews kiteboard 3 weeks from his surgeries for carpal tunnel syndrome and cubital tunnel syndrome.
James Petragnani believed that the tingling, pain and lack of function he was experiencing in his hands was the same bursitis that other family members had suffered. He assumed that nothing could be done to ease his discomfort or help with the ability to use his hands. "While I could fall asleep, I found myself waking up in the middle of the night with a tingling feeling in my hands. I'd move my hand around to try and make the feeling go away. Finally I would fall back asleep, but the disruption was taking a toll on me." His wife also noticed that he was using his hands differently, and he seemed limited in his coordination. Mr. Petragnani explains that the ultimate test for him was when he could no longer click his fingers. "It may sound silly, but for me, when I could no longer make that motion, I realized I needed to see if there wasn't something that could be done."
As a well-regarded general surgeon here in Jacksonville, Gary Bowers, M.D., knows the importance of having the most expert person possible operating on you. "I knew that with a skilled surgeon who was able to perform the surgery endoscopically, which would mean a smaller incision, I would have a good outcome and relatively quick recovery. My advice to anyone who is having symptoms of carpal tunnel syndrome is to get a consultation. There's no need to suffer with numbness, tingling, or pain, especially when the endoscopic carpal tunnel release is a relatively easy surgery from which to recover." Many years ago, Dr. Bowers suffered with carpal tunnel syndrome symptoms in his right wrist, but admits that he let it linger for too long prior to seeking treatment. "When it got to the point where it felt like a hot poker in my wrist, I knew I needed to tend to it." At that point, because the condition had persisted so long, performing the surgery endoscopically was not an option. He had the surgery and did not have any problems with his outcome, although he does have a several inch long scar extending from his palm down his wrist.
Practice Specialty: Fractures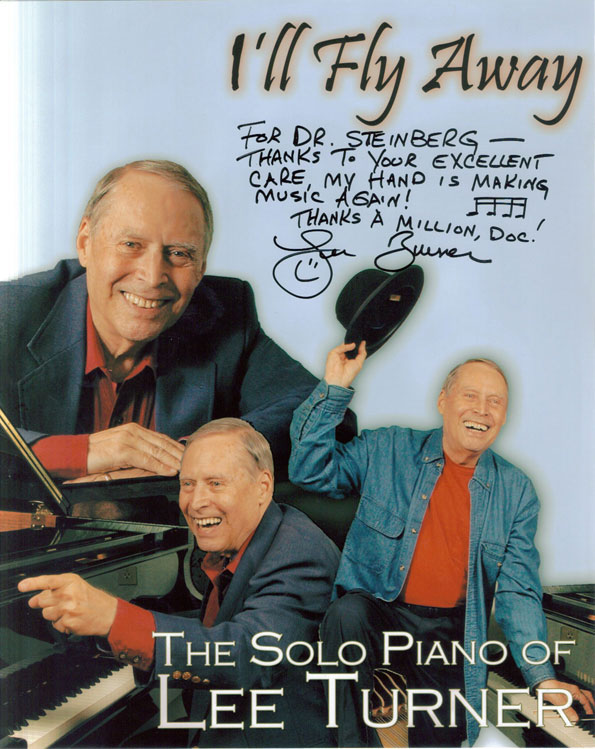 Thanks to your excellent care, my hand is making music again! Watch Lee Turner make music! »






When you are unable to use either of your arms, it is the little things that haunt you. Kenneth Koster, M.D., a retired cardiothoracic surgeon, learned this during his recovery from a fall in which he sustained serious injury. "Simple activities assume gigantic proportion when you can't move your arms. You ask yourself, 'Is it worth the effort?' Getting up out of a chair or trying to pick something up from the floor become monumental tasks." Clearly, Dr. Koster is a man of great determination and self-discipline as is evidenced by his renowned medical career and multiple other interests of which he has been involved over the years. Upon retiring from a career in cardiothoracic surgery, he has had the good fortune to pursue his passion for painting. In fact, it was while leaving his art studio in Chicago that he fell, and in trying to catch himself, severely injured both of his upper extremities.
Mrs. Lewis notes that prior to her injury, she took for granted the ability to perform simple tasks. "You just don't realize how important it is to have function of a hand until the time that you do not. Activities like fixing hair or applying make-up is extremely difficult and took much longer." She continues to say that she would gladly recommend Dr. Steinberg to anyone. "He was compassionate; he was straight-forward, and I always felt that he wanted what was in my best interest."
After 20 years in the military, Sergeant 1st Class Malcolm Bradford has served active duty in places like Iraq and Somalia. "As a soldier, I've seen everything you can possibly imagine". So when his motorcycle slipped on some sand as he was rounding a curve one day, he didn't think his injury was much more than a dislocated shoulder. "It's true that the bike fell on my left arm and I couldn't move it at all. But I'm an active person who's tough and use to punishing my body. I guess at first it was just the adrenaline that kept me going." However, it wasn't long before Sgt. 1st Class Bradford learned that his injuries were much worse.
Practice Specialty: Joint Replacement Surgery
While Mrs. Bonnie B. may not use these words herself, clearly hers is a story of perseverance, optimism and the power of a "can-do" attitude. What she will talk about is how expert medical care, specifically that provided by Bruce Steinberg, M.D., a specialist in the upper extremity, has helped to give her a decent quality of life.




Mr. Zittrower is quick to add that his wife of 52 years is also highly complimentary of Dr. Steinberg and grateful that he was able to heal her husband. Mr. Zittrower says, "Our prayer is that Dr. Steinberg and his team can do this well with all his patients. I am lucky that I had the support of a great doctor, rehab therapist and family to help me get through this process. My shoulder is now 100%. I'm back to my former level of activity. I truly believe Dr. Steinberg took 20 years off my shoulder and has given me my life back!"
Mrs. B. has happily referred others to Dr. Steinberg. "He knows his stuff and there's never any question about it." She has always felt that her long-term well-being was important to him. "I have been a patient of Dr. Steinberg's for many years. During that time he has performed multiple surgeries on me. He is accessible and thorough. He will spend as much time with me as necessary, and I never feel like he has one foot out the door. Most importantly, he is extraordinarily competent. What matters most is that my doctor knows what he's doing. It is an added bonus that Dr. Steinberg finds a way to make the experience pleasant. With him, you're getting the whole package, a heck of a nice guy who is an expert at what he does. I appreciate him and the care he has provided me over the years."
"I have no pain what-so-ever. When you have suffered to the extent that it brings you to tears, you really appreciate not having it." Mrs. Erickson and her husband are in the process of building a new home. She is looking forward to doing all of those things that make owning and decorating a new home enjoyable. "If you think about it, before Dr. Steinberg helped me, packing and moving in itself would have been impossible. Now I can enjoy all of the aspects of this exciting time." Mrs. Erickson encourages anyone who is having problems with their upper extremities to see Dr. Steinberg, sooner rather than later. "He will listen to what you have to say, make an accurate diagnosis, help you to understand and most importantly, do all he can to make you better."
Mrs. Butler happily shares how the quality of her life has improved, even in her ability to perform the simplest of tasks. "Now I can tear open the sweetener package for my coffee and pick up the container of cream. I can fix my own coffee just the way I like it! Every day I am able to do more and more. In fact, as I'm drinking my coffee in the morning, I put my left hand on the cup to warm it up before I begin my exercises."
George Lewis attended each appointment with his wife, Mary Ann, when she was a patient of Bruce Steinberg, M.D. He watched as Dr. Steinberg progressed through treating Mrs. Lewis' severely broken wrist. For years, Mr. Lewis had been experiencing his own pain, in his case, with the right shoulder. "Nearly 12 years ago I fell off the back of a pickup truck and broke my wrist. I think there probably was some damage done to the shoulder but it was not treated at the time." Ever since that accident, Mr. Lewis' shoulder has not been the same. Six years ago he underwent shoulder surgery; unfortunately, it brought him little long-term relief. "I'm not exactly sure what occurred, but I certainly continued to have pain. I assumed that nothing further could be done to help me." As he witnessed the superior care his wife received from Dr. Steinberg, however, Mr. Lewis became convinced that if anyone could help him, it would be Dr. Steinberg.
"I have had a lot of challenges with my hands, wrists and shoulder. The exceptional care that I have received from Dr. Steinberg has allowed me to do the thing that is my greatest blessing, and that is to help care for my three young grandchildren. They are very busy and I need to be able to use my arms to keep up with them!" Mrs. D. continues, "If I hear of anyone who is having problems with their arms, shoulders or hands, I recommend that they go see Dr. Steinberg immediately. There is no need to suffer with pain or inability to use your arms or hands when there is someone who is able to help you."
Dr. Steinberg performed a joint replacement surgery called left thumb trapezial excision FCR reconstruction. "I was not anxious to have the operation, and in fact, would not have done so if Dr. Steinberg didn't recommend it so strongly. He told me that in order to gain any leverage, this was my option. I appreciate that he explained the procedure very thoroughly, that he would be using a tendon to form another cartilage. He knew exactly what he was doing and I felt as though as I was in very good hands." She goes on to say that he did a great job in reconstructing her thumb. "It is obvious that Dr. Steinberg is a gifted surgeon. He was able to fix me so that I do not have any pain any more. I am able to fully enjoy all the activities that are so meaningful to my husband and me."
Carolyn Whorton assumed that the progressive pain and loss of function she was experiencing with her left shoulder was merely "a part of getting older". Sleeping comfortably became more difficult and she experienced increased "clicking and popping" of her shoulder. It wasn't until the pain became unrelenting that she decided to make an appointment with a doctor to try and obtain some relief. Unfortunately, the conservative course of treatment attempted to help Mrs. Whorton was not enough. At this point, she was referred to Bruce Steinberg, M.D. Upon examination and testing, Dr. Steinberg diagnosed Mrs. Whorton with arthritis of the glenohumeral joint and informed her that she was a candidate for a left shoulder total joint replacement. Understanding Mrs. Whorton's apprehension, Dr. Steinberg supplied her with patient references who gladly shared their experiences.
Practice Specialty: Microvascular Surgery
"I am very happy that Dr. Steinberg performed the surgeries. A big thing for me is trust, and from the beginning I believed that Dr. Steinberg was the best to help me with my problems. He always looks you right in the eye, and by his manner, instills confidence that he will do his best to help you. In my case, he told me I could either have a 'good looking ornament', or, if I would do as he instructed, an arm that functioned."
As someone who runs a physician's assistant company, Paul Smith knows the difference between medical care that is good and medical care that is excellent. So when Mr. Smith began having problems with his elbow, he turned to professional colleagues to find where he could best be helped with his condition. "I asked around and consistently received the same recommendation. Everyone I spoke with suggested I see Dr. Steinberg. They said that he knows everything about the upper extremities, and if anyone could help me, he could."